For the past few decades, union membership has been waning. But over the past few years, companies have seen a resurgence in organized labor. One such company is Starbucks, which has seen its workers enjoying unusual success in unionizing. However, that momentum seems to be slowing down. Many workers at Starbucks claim it's the result of union busting.
What Is Union Busting?
Also called "union avoidance," union busting refers to employers using special tactics to dissuade their workers from unionizing or exercising their collective bargaining rights. Union busting isn't inherently illegal, but it can be, depending on how it's done. The primary law that provides the right to organized labor is the National Labor Relations Act of 1935 (NLRA).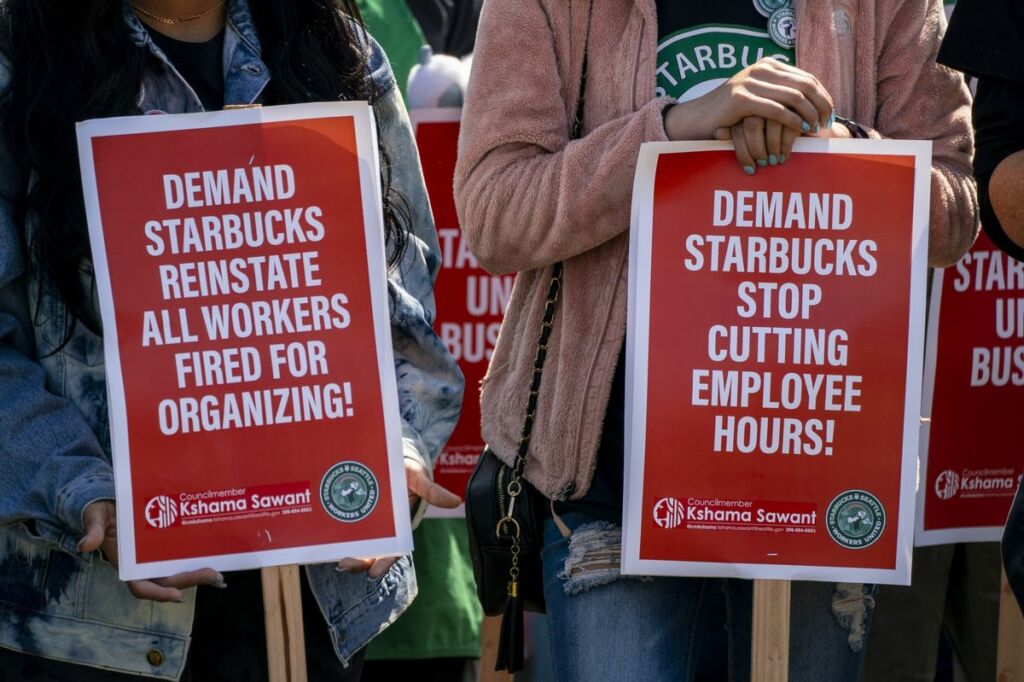 The National Labor Relations Act
The NLRA has two main sections that outline collective action rights. Section 7 of the NLRA relates to the worker's right to unionize and take other concerted action. Section 8 relates to what constitutes an unfair labor practice. With respect to union rights, Section 8(a) prohibits an employer from:
Interfering with a worker's rights as provided by Section 7.
Interfering with the creation or operation of a labor organization.
Discriminating against a worker who wants to join a union or has filed charges under the NLRA.
Refusing to collectively bargain with representatives from a union.
A key issue between workers and their employers that often arises is whether an employer is interfering with an employer's rights under Section 7. Generally speaking, an employer is not allowed to:
Threaten workers with a loss of benefits, poor working conditions or other adverse actions (like firing, demoting or discipline) because they have engaged in protected organized labor activities.
Coercively question workers about their thoughts or participation in organized labor.
Spy on union activities (or give the impression that the employer is spying).
Record workers participating in organized labor activities.
Reward workers for not joining a union.
Implement workplace policies that are likely to restrict workers from exercising their Section 7 rights.
There are two major reasons why many employers violate these prohibitions, whether on purpose or by accident.
First, there's a lot of grey area as to what an employer may or may not do to try and stop workers from unionizing or otherwise taking advantage of their Section 7 rights. For example, an employer is allowed to try and convince workers not to unionize. This includes "captive audience meetings" where employers require employees to attend meetings during working hours and the employer (or someone on the employer's behalf) will give reasons as to why workers are better off not unionizing. However, these meetings may not be used to threaten workers, although it can sometimes be tricky to discern what constitutes a threat.
For instance, during a meeting, a union avoidance consultant or manager of the employer might tell prospective unionized workers that they shouldn't unionize because it'll make it harder for the employer to provide retirement benefits through a collective bargaining agreement. Depending on how you look at it, this could be viewed as the employer threatening to take away existing retirement benefits or decide not to provide retirement benefits currently under consideration.
Second, it's difficult to enforce the NLRA. Assuming an employer is found to have violated a worker's Section 7 rights, the legal punishments are usually limited to compensatory or equitable remedies, such as back pay, reinstatement or direct costs relating to a firing (like moving or legal expenses). Put another way, there aren't any punitive damages or big fines that employers will need to worry about for violating Section 7 of the NLRA.
The weak penalties of the NLRA often mean it's cheaper for employers to pay legal damages for NLRA violations and prevent a union than to abide by the law and deal with unionized workers.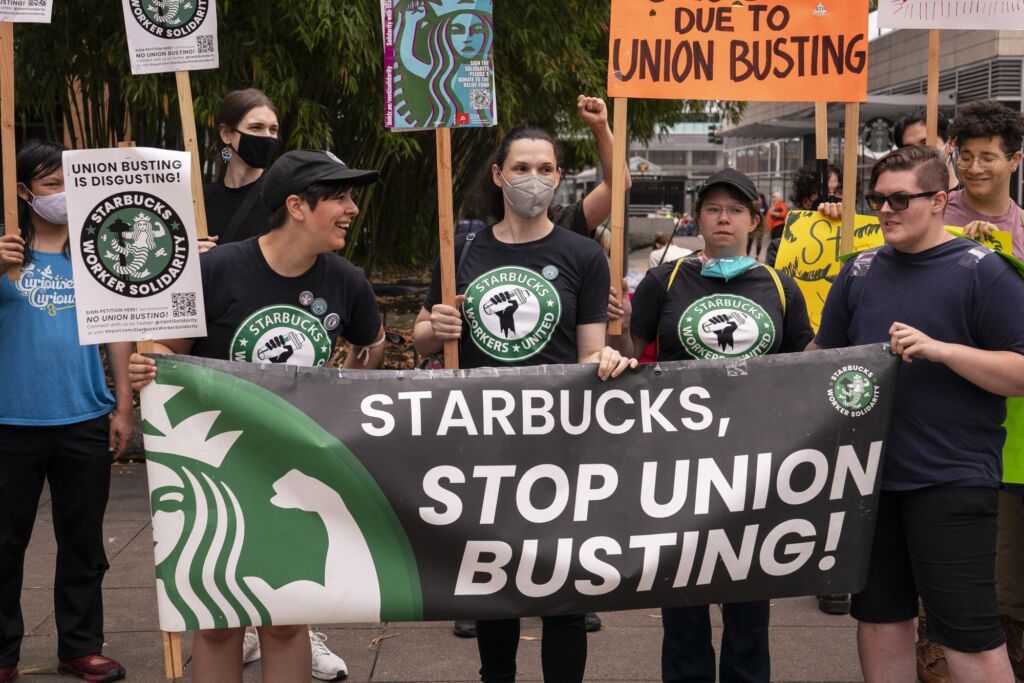 What Starbucks Is Allegedly Doing to Bust Unions
Starbucks has experienced a rapid rise in unionization efforts, with workers from roughly 245 stores voting to unionize. This trend has slowed, and many union supporters allege that Starbucks is responsible. Specifically, they claim that Starbucks has set up a comprehensive anti-union communication campaign, improved the pay and benefits of workers at non-union stores and fired leaders of the unionization movement.
The National Labor Relations Board (NLRB) is the main investigative and enforcement agency of the NLRA and has received hundreds of unfair labor practice complaints made against Starbucks. These complaints have done little to stop Starbucks from its union-busting efforts.
It's often difficult to distinguish between legal and illegal efforts by an employer to stop its workers from unionizing or exercising their collective bargaining powers. Recall from earlier in this blog post that employers aren't allowed to reward workers for not joining a union. But does an employer increasing the pay of workers at locations where there isn't an upcoming union vote qualify as an unfair labor practice?
Summing It Up
The NLRA sets out the rights and protections workers have to take advantage of organized labor. But its enforcement mechanisms aren't strong. And it can also sometimes be difficult to decide if an employer is violating workers' rights or simply stating its side of the argument in regard to its stance on the drawbacks of organized labor.